Introduction
Baton Rouge, Louisiana is certainly a hot spot for hip-hop in 2020, for both good reason and bad. If you are a rap fan and are unaware of the works of NBA YoungBoy, you had to have been living like Patrick Star for longer than a vacation amount of time. Kentrell "YoungBoy" Gaulden is often called one of the most consistent hip-hop artists in recent times period. He spearheads the "Never Broke Again" movement, which is a member-only crew and a merchandise line donned by the youth nationwide. Louisiana rap (and ex-street) kingpin Boosie Badazz even has an upcoming album with the twenty year old.
The Baton Rouge Rap Landscape
NBA YoungBoy's gritty image and lyrical content is far from a celebrity persona. While "NBA" is the movement on the musical side, it is well known that YoungBoy and company belong to a Baton Rouge street organization known as "Bottom Boy Gorilla" (or "BBG"). Bottom Boy Gorilla are certainly relevant force in the streets of BR, and existing with similar power in the cities north side is "Top Boy Gorilla", who are involved in a long-time war with their south-side equivalents. Despite this gangland conflict, much of the bloodshed and "beef" throughout the career of NBA YoungBoy tends to stem from personal issues (from what is apparent to the fans).
In the early career of NBA YoungBoy, he was originally representing the Top Boy Gorillas. One old music video shows NBA YoungBoy alongside another Baton Rouge rapper named Fredrick "Fredo Bang" Givens, who would end up one of his mortal enemies later on.
Who is Fredo Bang?
Fredrick "Fredo Bang" Givens is a native to both Baton Rouge and Top Boy Gorilla who has been making enormous waves in hip-hop since 2018. Before that, he had been working towards his destiny since the age of fourteen when he began to impress friends at their makeshift studios. His intrinsic ability to flow, write lyrics, deliver confidently and even sing made him the recipe for a superstar.
Fredo Bang is an example of a "street-corner" superstar. He's become one of the primary influences in the more niche drill rap subculture for the past two years now, despite his somewhat frequent tendency towards harmonic vocals (much like NBA YoungBoy and many other Louisiana rappers). Like most drill, the music of Fredo Bang is often angry, emotional, vitriolic, sinister, and seemingly vengeful.
While Fredo Bang is clearly a talented vocalist and artist, his lyrics are almost purely reflective of the sad realities of the street. One of these sad realities was the murder of Garrett "Gee Money" Burton in 2017, a TBG member and very close friend of Fredo Bang. Gee Money was also a fast-rising rapper though, and was arguably supposed to be the YoungBoy of TBG. One of Fredo Bang's initial motivations was to fill the void Gee Money's death left in terms of TBG's application of musical pressure.
Read More: "NBA YoungBoy associate arrested in 2017 death of Gee Money as police focus on Baton Rouge rap beefs"
Top Boy Gorilla and Lit Yoshi
Fredo Bang is still making noise these days, but lately he's been allowing some spotlight on his right-hand man. Mieyoshi "Lit Yoshi" Edwards is a Baton Rouge native and original TBG member just like Fredo, holding a similar amount of street-level influence (if not more). While he is an active rapper with his fan base growing daily, Lit Yoshi is also considered the "Head Youngin" of TBG, a position with significance outside of music. His ties in the community include being the nephew of deceased Boosie associate / Louisiana street legend Ivy Smith.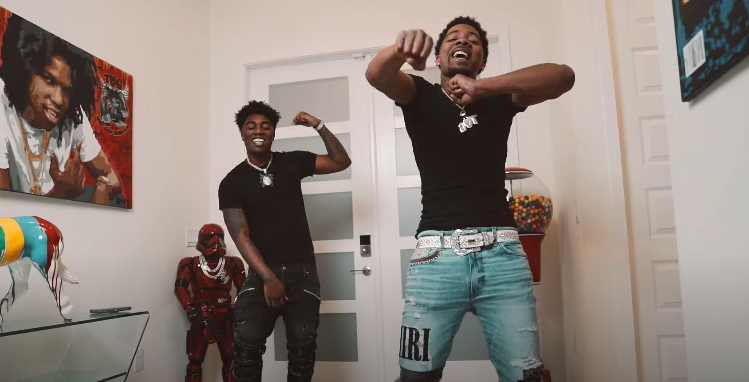 The Works of Lit Yoshi
While Fredo Bang continues to hold the TBG musical torch he received after Gee Money's death, Lit Yoshi's music is becoming similarly influential and accompanies Fredo's in a seemingly weaponized manner. Fans spend lots of time on drill forums trying to break down how the blood feuds of BBG vs. TBG are expressed in their artist's lyrics. With Lit Yoshi rising as fast as he is, the TBG "Head Youngen" is subject to this scrutiny arguably the most.
Lit Yoshi – Blasting
"Left him slumped under the car, he had his pistol / I had my glizzy I was slanging at that n****"

Lit Yoshi on "Blasting"
"Blasting" is a single / music video combo which checks all the boxes for a drill hit. Lit Yoshi speaks on almost nothing but gun-play, and without ever making personal details clear, one can almost feel the targeted nature of his lyrics. This is even more apparent after hearing more of his discography and learning about his recent criminal endeavors.
"Police say the gang member who acted as gunman during a drive-by shooting at a Highland Road convenience store has been arrested.

According to a police report, Mieyoshi Tyree Edwards has been arrested on four counts of attempted first-degree murder.

Authorities say on April 10, Edwards, a member of Top Boy Gorilla Gang (TBG), was shooting at four members of the Bottom Boy Gorilla Gang (BBG) and Never Broke Again (NBA) gangs.

The report goes on to say, BBG and NBA had been feuding with members of TBG and states, "to date, this ongoing feud has claimed the lives of Garrett Burton (TBG), Ashton Wells (TBG), and Desmond Hardnett (NBA) and caused shooting injuries to countless others."

Detectives say a victim of the drive-by identified Edwards as the gunman who used an assault rifle to fire at him and three other gang members while they were outside of the convenience store.

Authorities say this statement was corroborated by the eyewitness accounts of others and a 7.62 caliber cartridge casing recovered from the crime scene.

Detectives say they'd been investigating the TBG gang for several years and recognized Edwards as a TBG enforcer suspected of committing numerous murders prior to this shooting.

Police said ballistic analysis suggested the same firearm was used in a shooting in the 3000 block of Crestwood Street during February 2019, the same area where a BBG house is known to be located."

From a WBRZ news snippet (source)
Lit Yoshi – First Day Out
"First Day Out" is yet another single, as this is what Lit Yoshi's entire catalog consists of right now. The accompanying music video is introduced with details of his serious 2019 charges (including four counts of attempted murder) read aloud by a computer generated voice. Lit Yoshi briefly celebrates his freedom from county jail after posting bail, and immediately takes off running on the track.
"First day out, the same chopper, same mop, I'll still-a-get a drop on all the opps"

Lit Yoshi on "First Day Out"
Lit Yoshi – Runtz
From an article on WeaponsG.com called "The Communities Keeping Drill Music Alive Ft. Reddit":
"Fredo Bang affiliate Mieyoshi "Lit Yoshi" Edwards is one of the most discussed topics on the Subreddit. Before rap he was known for being a "Top Boy Gorilla" shooter, the Baton Rouge gang in which Fredo affiliates and NBA YoungBoy's people beef with. Many bodies have dropped in this long-running war, and Fredo and company are quick to use it for musical leverage. A recent Lit Yoshi song "Runtz" was hugely controversial because of the incriminating lyrics that were later censored (probably by lawyer advice). Lit Yoshi has this to say about a deceased NBA associate ("Dump"):
"Spin again, yea i'm smoking on that Runtz (Dump, Dump, Dump, Dump), yea i'm smoking on that truck, yea"

For the first verse he comes out the gate with "Fuck that boy, yea I hit his partner up", but this lyric was silenced out in the final version. Despite this, there is still a time at the end of the song where the lyric is clearly heard.

(source)
Lit Yoshi Ft. Fredo Bang – Again
"Yea I knocked the roof off, i'm trying to hit the big dog / Now its time to knock his clique off, make them pussies have a sit-down"

Lit Yoshi on "Again"
One of the most recent Lit Yoshi tracks (as of now) is a Fredo Bang feature called "Again", posted 2 weeks ago and already close to 1 million views. Fredo Bang and Lit Yoshi alternate their usual confident and aggressive delivery and continue to have some choice words for the opposition.
"They say Fredo dropped the bag again, he about to flash again / rip his body up and twist his friend, bet he won't diss again"

Fredo Bang on "Again"
NBA YoungBoy the Target of Fatal Shooting in Miami
Lit Yoshi's name is not always thrown around in support. He became the target of social media speculation when he brazenly appeared in a Snapchat video toting an assault rifle in Miami: This was immediately around the time that NBA YoungBoy was the target of a shooting in that same city, where an innocent bystander was killed and YoungBoy's girlfriend was shot. The media had originally reported that this shooting stemmed from an altercation between NBA and Tee Grizzley's entourage.
Head Youngin Apparel
Lit Yoshi recently released a $29 shirt he had been teasing on Instagram for some time, and TBG fans are certainly excited. It features a Nintendo Yoshi graphic that was either incredibly difficult to clear, or uncleared and released anyway. Nintendo is known for cease and desisting anyone attempting similar use of their imagery.
The first Lit Yoshi drip is sold by the Head Youngin himself, on his own web store HeadYounginApparel.com. While Fredo Bang has a few different record deals and is a frequent collaborator, Lit Yoshi mentions in his Instagram name that he a yet-unsigned artist: Capitalizing on his own merchandise money, brand name hype and aiming for a hot career of his own.
Lit Yoshi YouTube Breakdown (as of June 2020)
"Again" w/ Fredo Bang – ~942,000 views
"First Day Out" – ~814,000 views
"Blasting" – ~701,000 views
"Runtz" – ~453,000 views
"Dracs" – ~312,000 views
"Face Some" – ~299,000 views
"Soldiers" – ~257,000 views
…And many more where that came from.
This article's featured image contains a photo from "DaDumbWay", a Louisiana rap community on Reddit (source).
Vanessa Carlton might not have done her due diligence when she gave a response to her recent critics, after clearing "A Thousand Miles" sample for a real -life war anthem making several Florida mothers cry.